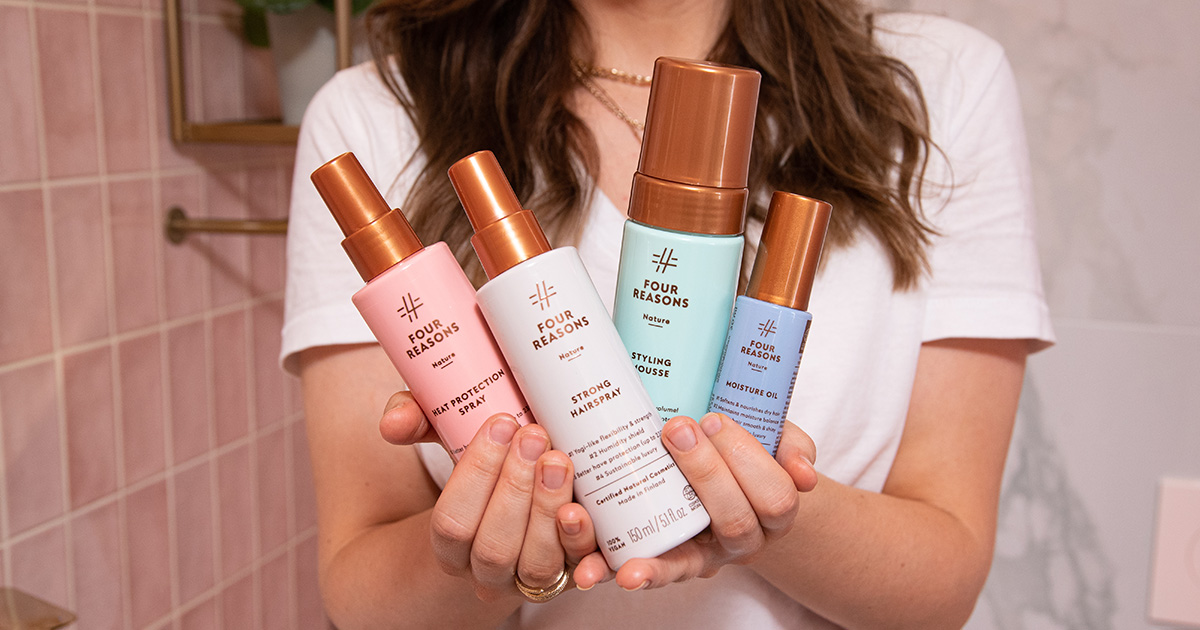 How many natural cosmetic products does it take to protect your hair against the heat of styling tools and air humidity? The answer is one, but we decided to make three, because one day, your hair might need volume, whereas another day, it might need strong hold. However, the Four Reasons Nature styling products all have one thing in common: your hair will have a gorgeous, finished and natural look with protection.
All Nature styling products are certified natural cosmetics, 100% vegan and 100% delicious. These products fulfil their promise: fabulous hair naturally. The hairspray, styling mousse and heat shield spray contain organic sea buckthorn and apricot extract which both are known for their high vitamin content.
We prepared two videos to show you how well the Four Reasons Nature styling products work under styling tools and a hairdryer as well as in the finishing touches to your look. The fragrance-free heat protection spray and hairspray are also suited for fragrance sensitive people and those who want to keep it simple. We guarantee that these products will give you what you want: a beautiful, effortless look.
Blow dry, curl & finish
This gorgeous style only requires three easy steps: blow-drying, curling and finishing are the keywords for creating luscious, airy locks. Build the look with Nature Styling Mousse, Heat Protection Spray and Strong Hairspray. These three products will protect your hair throughout the styling process and create a base for long-lasting results. The heat protection spray and the hairspray will protect your hair against the heat of styling tools up to 230°C and, to make sure your style looks perfect from morning to night, the products also protect your hair from humidity.
Start by applying volumizing styling mousse to damp hair. Dry your hair with a hairdryer, particularly focusing on your roots to create more volume. Brush your hair to untangle it. Next, apply some heat protection spray and get curling! Nature Heat Protection Spray not only protects your hair but also makes it easier to style and adds better hold. Finally, add hairspray and squeeze the curls to help them settle.
Natural Waves
For relaxed, effortless looking (but long-lasting) waves, use a hair straightener. It's important to use heat protection to ensure that your hair stays healthy and shiny for a long time. Healthy hair is easier to style.
Four Reasons Nature Strong Hairspray comes to the rescue when you are in a hurry and in need of an effortless look. This strong and non-aerosol hairspray gives flexible hold and volume to your hair. The product also protects your hair from humidity and heat up to 230°C, so you can feel free to use the product under a straightener to provide firm support – talk about all in one!
Add some Four Reasons Nature Moisture Oil to your curls to give your hair some extra shine and moisture. The oil was selected as the best hair product of 2020 at the Nordic Natural Beauty Awards. We couldn't agree more.
Certified natural cosmetics to meet all your needs
The Nature product line has a Cosmos Natural certificate issued by ECOCERT®, so you can trust that the ingredients are natural and the production and packaging ecological. In other words, you do not need to worry about the sustainability and naturalness of the ingredients – that's all taken care of!
You may be thinking that natural cosmetics are not for you and that relying on "regular hair products" is the way to go. We understand; the products in our Original and Professional lines, for example, are pretty much perfect. However, choosing natural cosmetics has never been this easy! The Four Reasons Nature products are not only natural; they are also ecological, vegan, diverse, and the list goes on and on. However, they are also wonderful to use and produced with as much love and effectiveness as our other product lines. In any case, the goal behind all of our products is always the same: to make you feel gorgeous.