Unfailing coverage
Four Reasons Optima Total
The diverse Four Reasons Optima color product range has been developed based on hair stylists' wishes and is now complemented by the Optima Total range that is based on neutral color pigments and intense coverage. With guaranteed 100 % grey coverage and a processing time of only 10 minutes, Optima Total provides you with an opportunity for additional services with good profit.
More about Optima Total!
More about Optima Total!
Four Reasons to love Optima Total
1
Reliable 100% grey coverage
2
Quick to use – processing time only 10 minutes
3
Beautiful and natural finish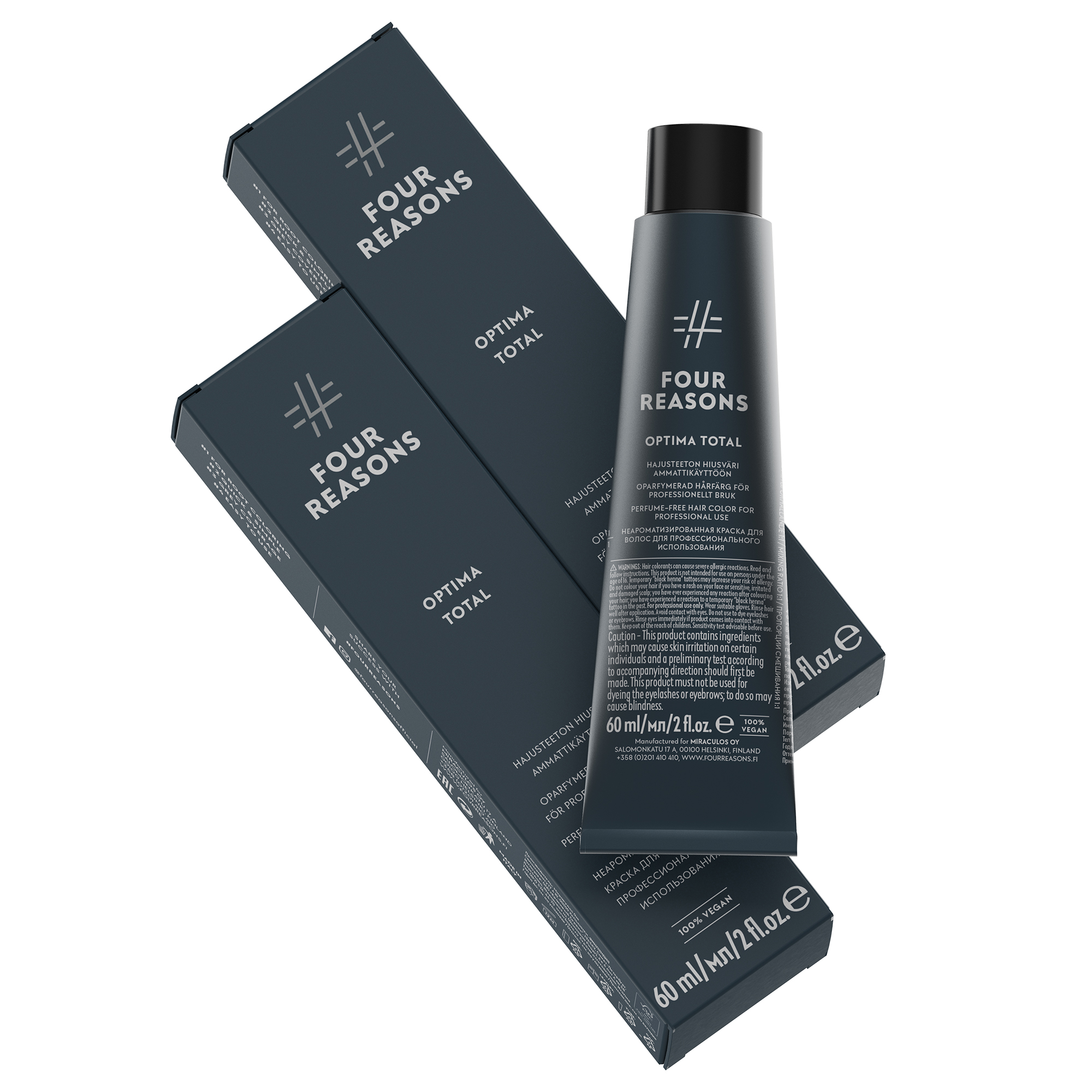 Complete your color range - Choose Optima Total
Working with the Optima Total color range is as easy as ABC; the carefully selected compact color selection and the lovely, luscious texture that is easy to apply make coloring smooth and fun. The Optima Total color range includes fermented green coffee beans with antioxidant polyphenols and caffeine that stimulate microcirculation in the scalp and promote the wellbeing of the scalp.
The Optima Total color line is fragrance-free and vegan. Contains ammonia.
The Optima Total packaging size has been optimized for economic coloring: the 60-ml tube has enough for two root touch-ups.
Diversify your color range – choose Optima Total.
Optima Total Tone Selection
OPTIMA TOTAL NN TONES
3NN, 4NN, 5NN, 6NN, 7NN, 8NN, 9NN
Neutral base tones with intense coverage. Classic tones that are traditionally most used in grey coverage, in particular.
OPTIMA TOTAL MIX TONES
4–6A, 7–9A, 4–6B, 7–9B
4–6BM, 7–9BM
6MR, 6V
Are you craving more vibrant tones? Choose the Optima Total mix tones with which you can add a colder or warmer tone to the base color selection. The range also features red and purple tones that are excellent for grey coverage.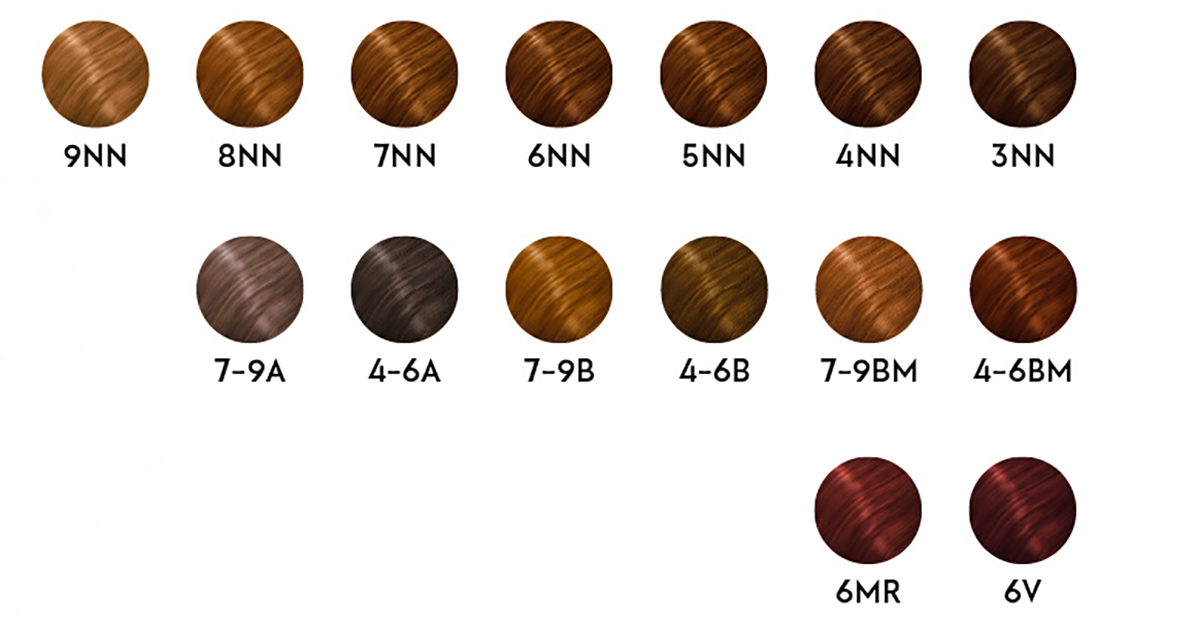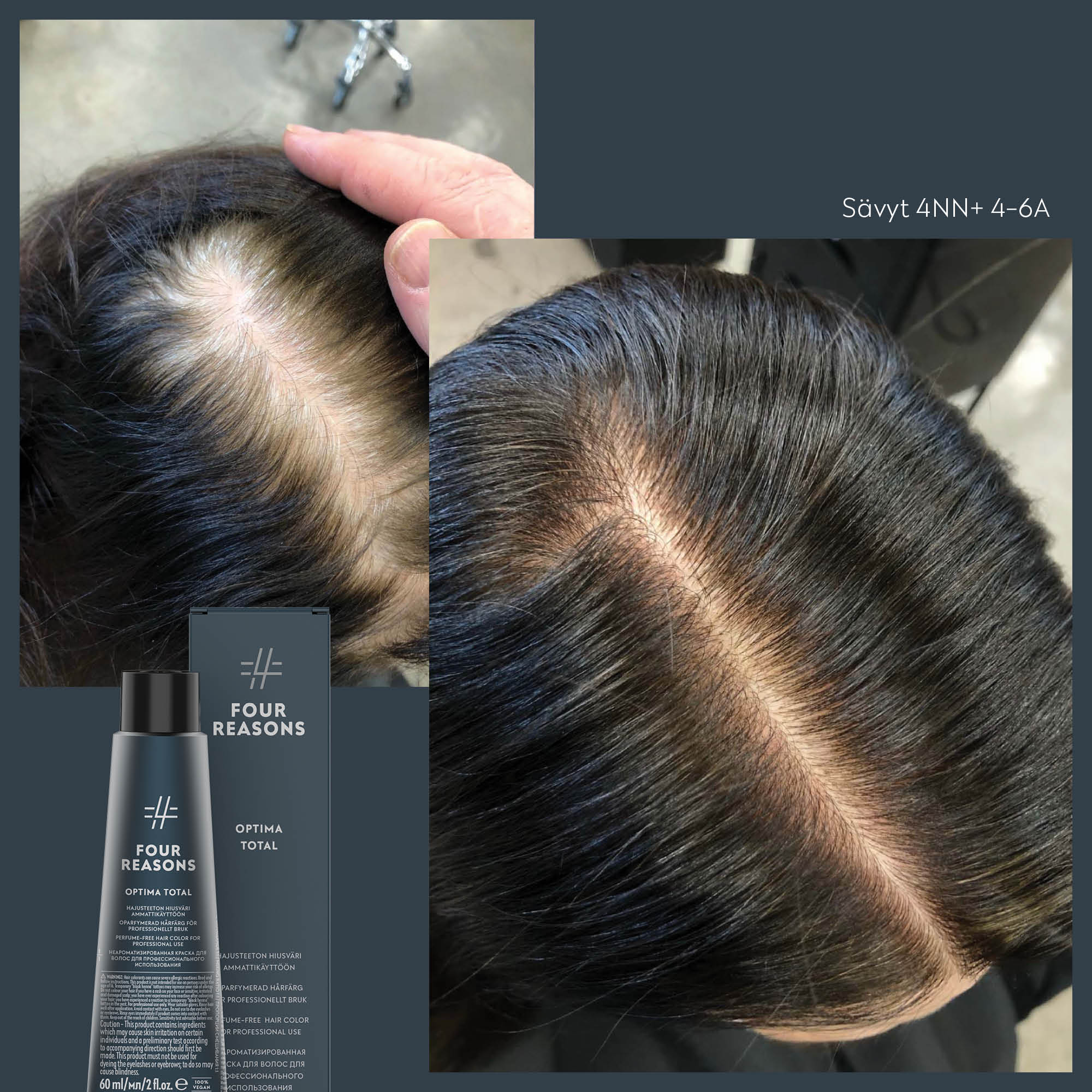 How to use Optima Total colors
The Optima Total color range consists of the NN base tones and mix tones with depth levels 4–6 and 7–9. Select the depth level from the NN base colors and the possible tone from the mix tones:
Optima Total mix tones 4−6 can be mixed with Optima Total base tones 4, 5, 6
Optima Total mix tones 7−9 can be mixed with Optima Total base tones 7, 8, 9
 When the Optima Total mix tones are used on their own, the final depth level will be 5 (4−6) and 8 (7−9)

Instructions for use:
Determine the depth level and tone of the lengths and ends.
Mix the Optima Total color with the Optima Total Activator developer in a non-metallic bowl. Use a 1:1 mixing ratio and mix thoroughly.
Apply the color to the roots only, as the Optima Total colors may darken colored hair. If there is more grey in certain sections, apply the color first to those sections (for example, the temples first and then the rest).
Processing time is 10 minutes.
After the processing time, emulsify with water, rinse and wash the hair with shampoo.
Note:
Start the 10-minute processing time only after the color has been applied throughout.
Follow the indicated processing time; the product works effectively and rapidly.
Apply color to lengths during the final 3–4 minutes of processing time only if the previous hair color is extremely faded. You can easily and gently freshen the ends with the Four Reasons Luxima color range, for example.
Only use the Optima Total Activator 8% developer with the Optima Total colors.
Optima Total colors cannot be mixed with other hair colors.
Watch Optima's training videos!
Four Reasons Optima is an easy to use professional hair color line for hairstylists. You can learn all about it by watching our training videos!