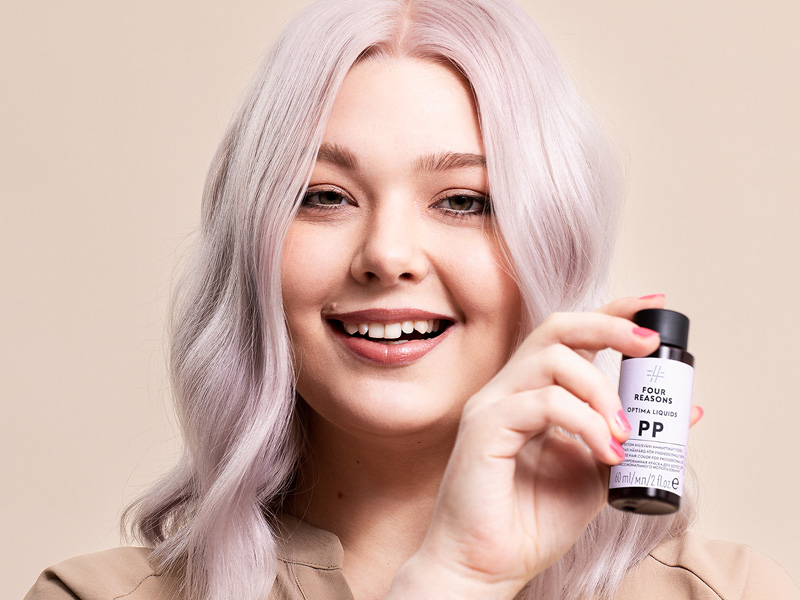 Four Reasons Optima Liquids
Four Reasons Optima Liquids is a hair color for toning, neutralizing and clarifying bleached hair. The topical selection of pure blonde tones is designed for bleaching in which you want to add layers to the bleached base while maintaining the brightness of the color. When paired with the Optima Liquids Activator developer, the product's liquid consistency blends into a mass that is easy to lather and also fast and cost-effective to use at the shampoo station.
FOUR REASONS TO LOVE OPTIMA LIQUIDS
1
For glossing bleached hair
3
Quick to apply and short processing time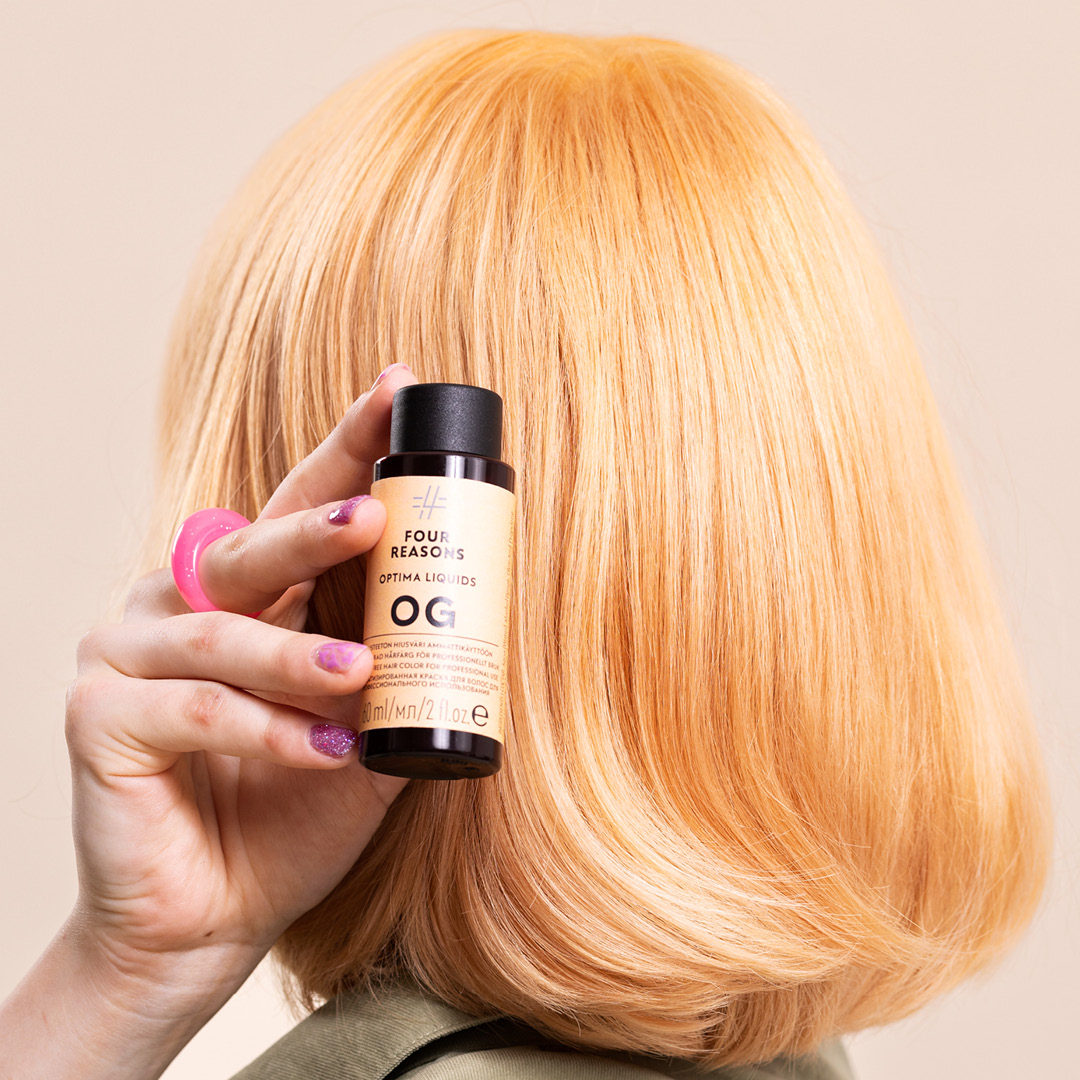 PERFECT TONES FOR BRIGHTEST BLONDS
Four Reasons Optima Liquids contains a unique compound of hydrolysed proteins that repairs and strengthens hair by preventing it from splitting and also protecting the hair from damage caused by chemical treatments. Other pampering ingredients include Ecocert certified Limnanthes alba seed oil that leaves your hair glossy and soft, and baobab oil that moisturizes the hair effectively due to its high content of vitamins A, D, E, and F. Four Reasons Optima Liquids is fragrance-free and vegan.
Processing time: 10–20 minutes, depending on the desired intensity.
OPTIMA LIQUIDS TONE SELECTION
AA – Pure silver
PP – Cold pearl
PG – Pearly sand
RR – Warm pink
PM – Cold muted rose gold
OM – Warm muted peach
GG – Light gold
OG – Light golden copper
CLEAR – Clear
In addition to the eight pastel shades, the Optima Liquids range includes CLEAR. If you prefer a softer result, use CLEAR to dilute the shade.
With Optima Liquids tones, only use the Optima Liquids Activator 3% developer. Mixing ratio 1:1.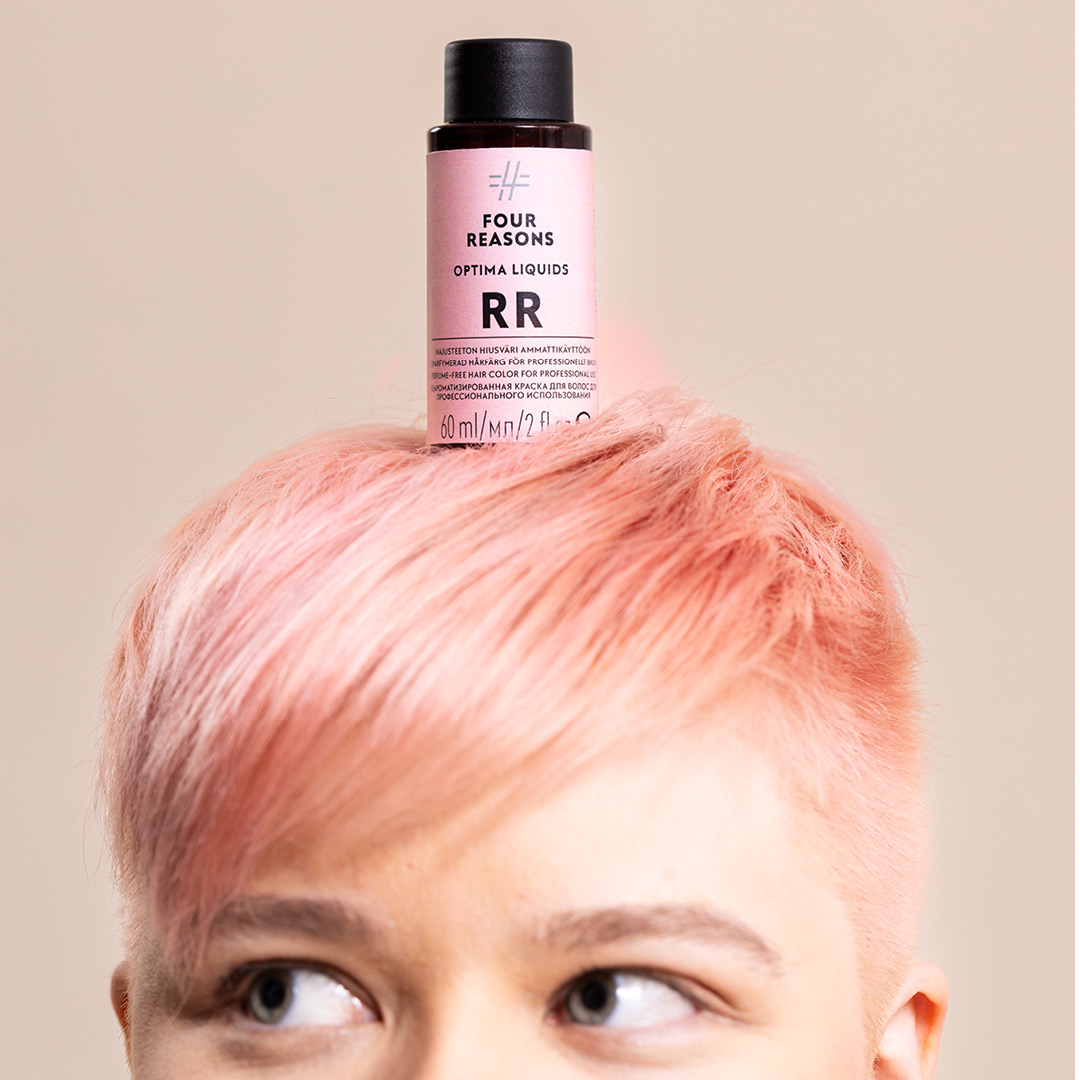 OPTIMA VIDEO TRAINING
Four Reasons Optima is an easy to use professional hair color line for hairstylists. You can learn all about it by watching our training videos!