Direct Dye and Color Protection
Direct dye creates a stunning, vibrant finish for hair and is perfect for playing with colors. Four Reasons Color Mask Intense direct dyes are easy to apply and create an intense result within four different shades. The toning Four Reasons Color Mask cleansing and hair care products have been developed for dyed dark, blonde and red hair and can fulfill many different needs and wishes. You can extend the lifetime of a dye, maintain the warmth of a tone or apply a new tone to your hair.
Color Mask Intense
Color Mask Intense is an intensive toning treatment for vibrant results. A generous amount of color pigments give hair an intense tone. Plant-based proteins and amino acids strengthen and give amazing shine to the hair. Your hair color stays vibrant and your hair becomes healthy and conditioned.
Intensive results that last for a long time
Caring and conditioning direct dye
Can be used for maintaining your vibrant hair color
Four beautiful shades: Blue, Fuchsia, Pink, Violet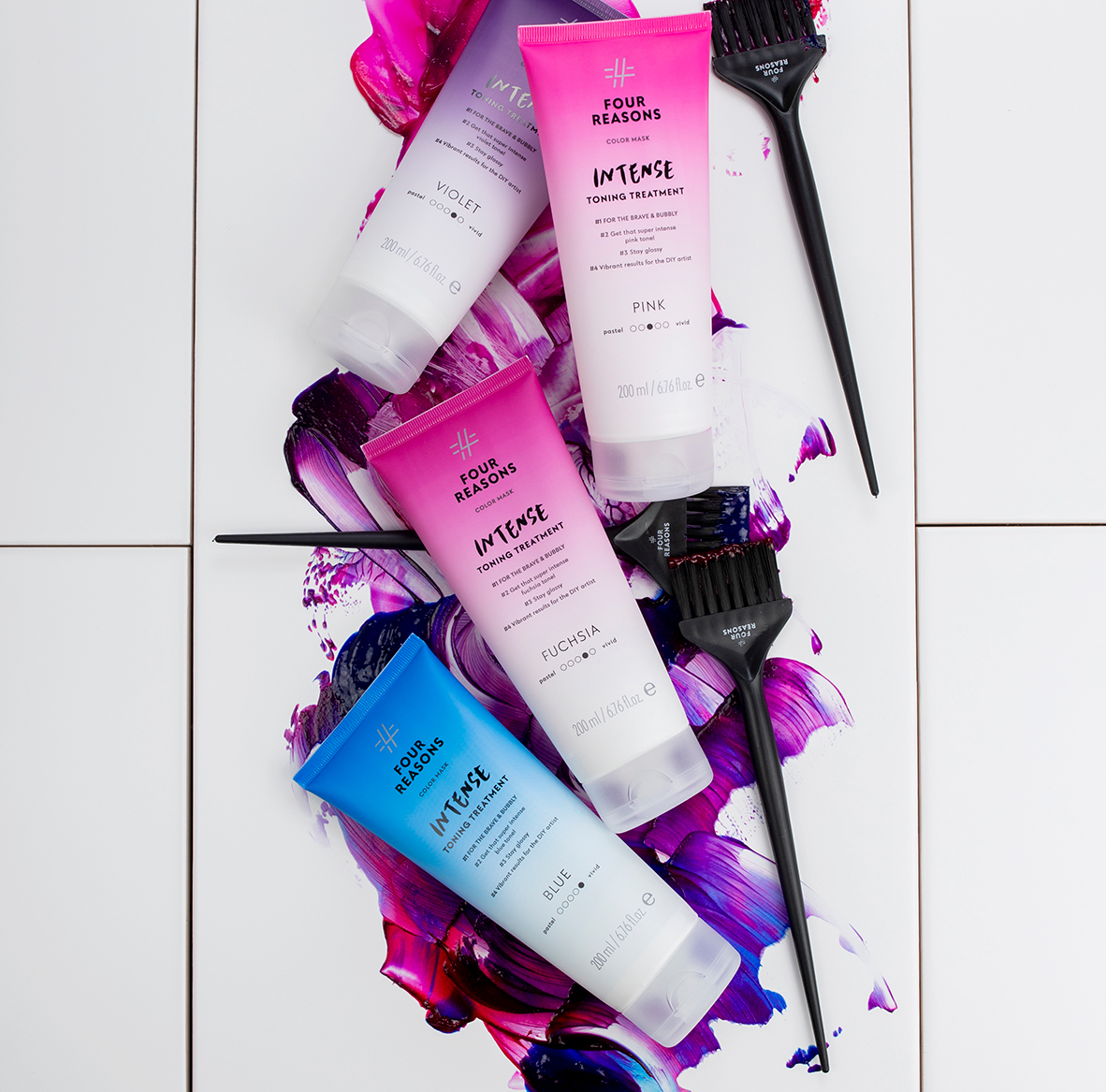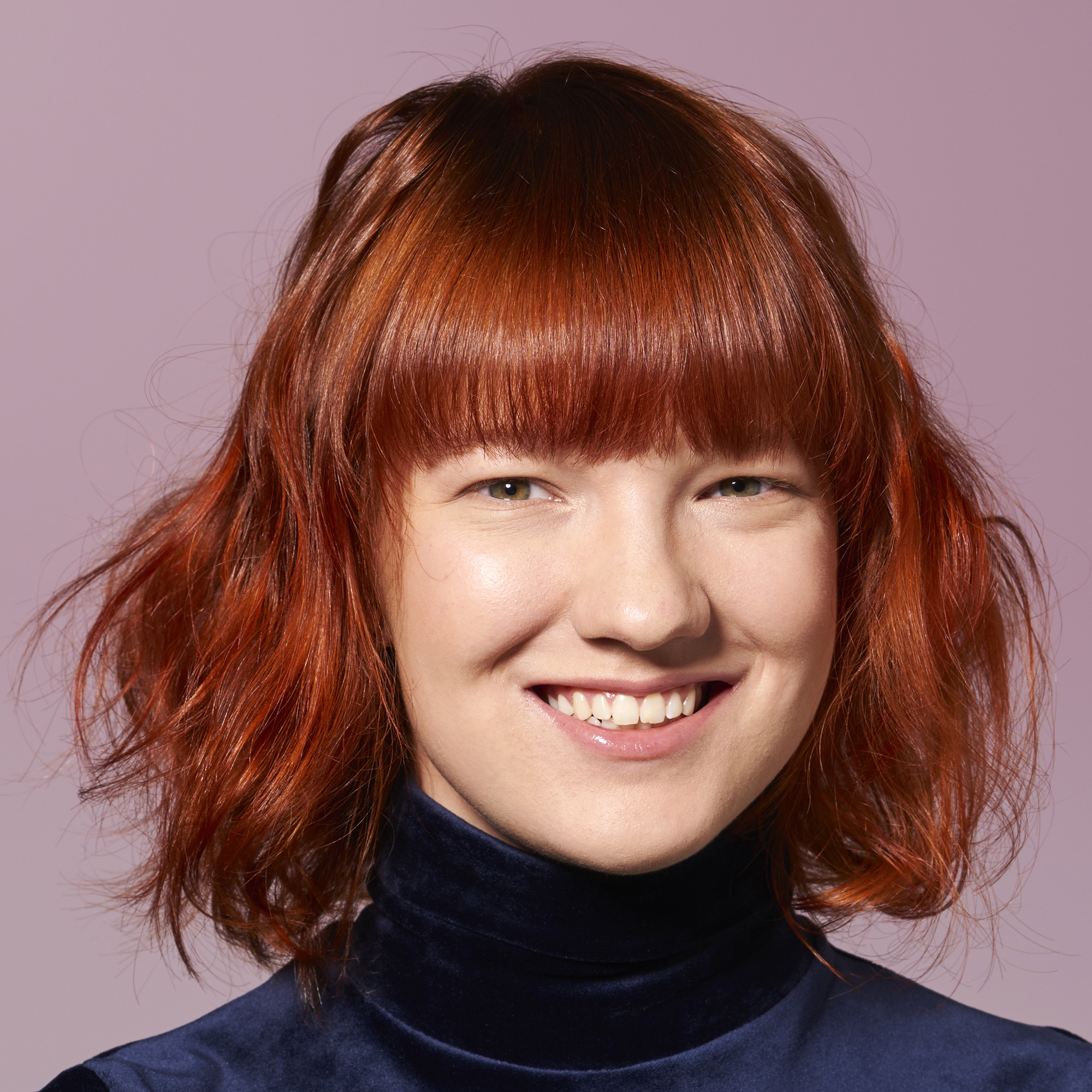 Four Reasons Color Mask
Four Reasons Color Mask is a modern selection of toning washing and haircare products that allow you to emphasize and maintain hair tone either subtly or boldly. The nourishing and pigment-rich composition is vegan-friendly and extends the lifetime of a dye while maintaining its intensity. With these stunning tones you can maintain and tone the trendiest hair dyes at home!
Color protection between dyes
Color Mask is an easy solution for the most common challenge with dyed hair: fading. The high concentration of pigment in the products ensures that the intensity of recently dyed hair is maintained for a long time between dyeing. You can intensify your hair color whenever it needs to be revitalized. Challenging shades of red are also easy to maintain as glowingly intense with Color Mask.
Maintaining the coolness or warmth of a tone
Color Mask products are also efficient in maintaining and fine-tuning cool or warm tones. Blonde hair stays bright and cool and warm browns stay rich. Silver, purple and cool brown tones stay stylishly cool. Warm red shades glow for a long time with just the right amount of copper tone.
Toning
For those who want some variety, Color Mask products are an easy way of introducing new nuances to their hair. Delight in the luxurious tones of rose gold or intense pink in blond hair, tone light brown hair to become a metallic bronze or give a purple shade to dark hair.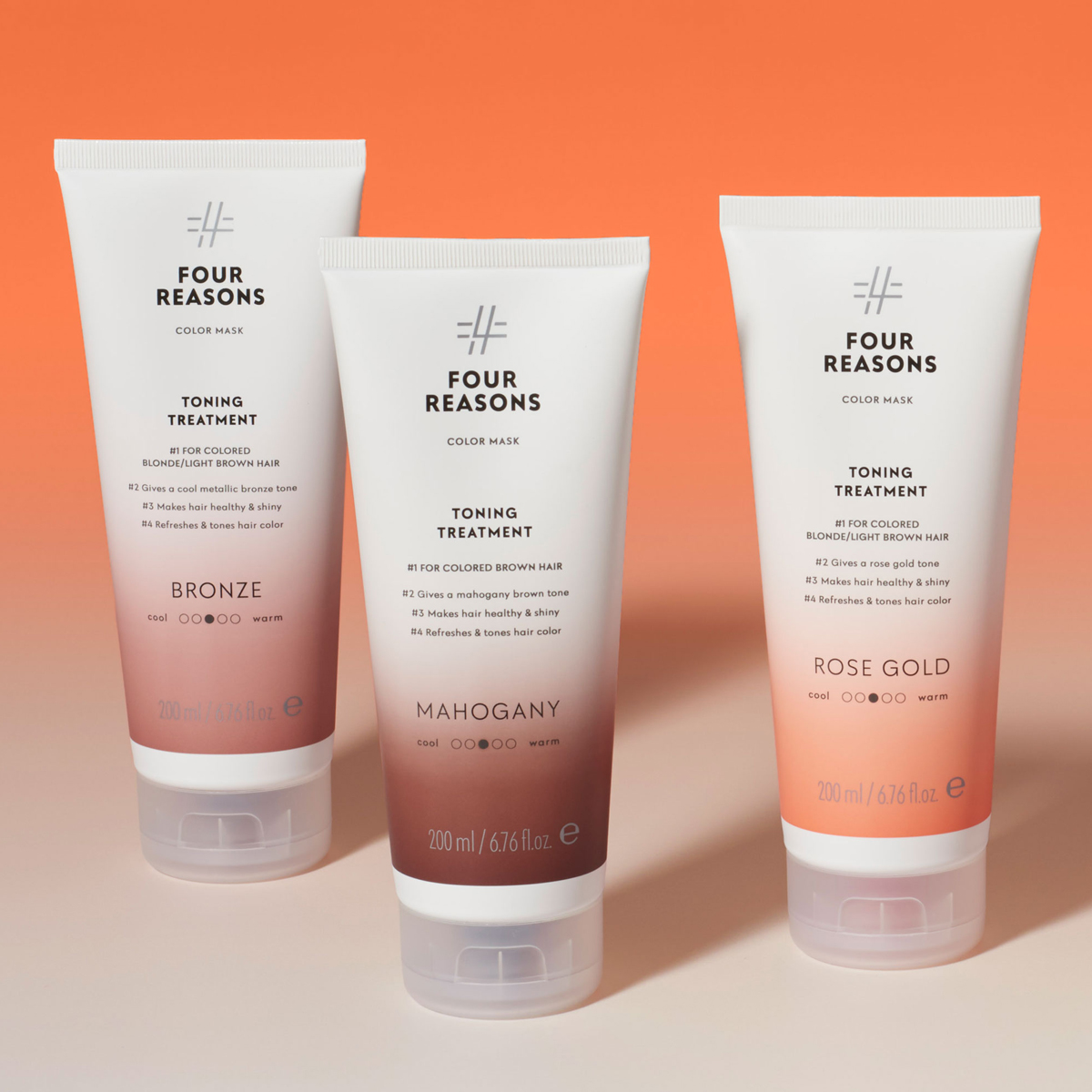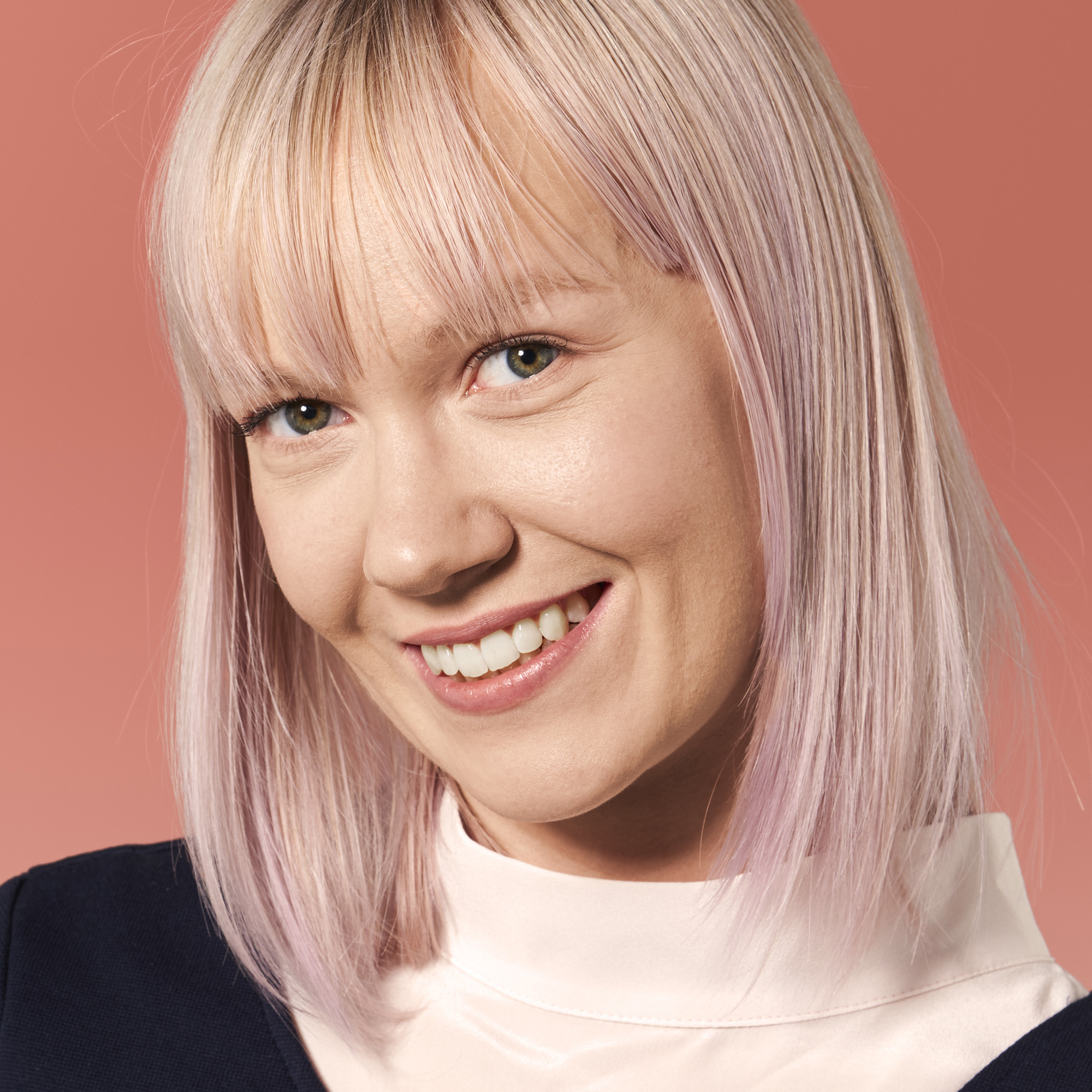 Use Four Reasons Color Mask products in your salon
as a product for customers to maintain dyed hair at home
for toning porous hair
for toning ends that are too light
for finalizing a shade at the wash basin
for post-pigmentation.
If hair structure is so damaged that oxidized color pigments do not adhere to hair. Color Mask is a gentle alternative for tinting hair.
Four Reasons Color Mask Shampoo
Rich in color pigment, Color Mask Toning Shampoos clean color-treated hair as gently as possible, increase shine and effectively remove static electricity. The hydrolyzed wheat protein and Pantenol (vitamin B5) contained in the product strengthen color-treated hair. Use instead of traditional shampoo whenever you want to boost the intensity of your hair color and increase its glow. Sulfate-free formula.
Four Reasons Color Mask Treatment
As well as a rich dose of pigment, our toning Color Mask Treatments give your hair strength and nourishment with the help of plant-based proteins and amino acids. The end result is healthy hair with a vibrant blaze of color. Use instead of traditional conditioner whenever your hair color needs refreshing.