Think about what would make you happy right now. Do that, instead of doing what you should. The hair trends for the fall feature surprising color combinations, 2000-esque tricks with contrasts, and bold leaps away from the path well trodden. The ombré trend from a couple of years ago gets a new lift, when the colors are turned upside down. Asymmetrical cuts are also in, for both long and short hair. When everything is topsy-turvy, don't fight against it – own it.
When the world is upside down, BE upside down. This is not the time to be conventional but to rebel against the old ways and take charge. How often are we told what to be or do? Instead of accepting our supporting role in this act we call life, we can say f***k it and go the other way.
Sometimes, it can be a relief to try something other than the familiar path or the reliable choice. There's nothing wrong with wanting something safe and familiar, but sometimes, freedom can only be found by turning upside down and looking at things from a new, topsy-turvy perspective. The trendiest hairstyle in the fall is a combination of something new and refreshingly inspiring as well as the elements that make you who you are. The best style reflects the personality of its owner while creating new confidence with a bold twist. Why stuff yourself in a mold when you can be topsy-turvy?
Take a look at the Four Reasons Upside Down Collection AW21 trend collection and fall in love (and prepare for a sudden urge to run to your nearest salon).
Reverse Ombre
"When I was younger, I followed the world of models and realized that all models looked the same. This of course easily leads us to believe that mold to be the correct one and the most beautiful. Who would represent normal people? Every body is beautiful and unique: tall, short, curvy and small." -Ellen
Reverse it! No long haired person has escaped from the 2010s hit coloration, the ombré. No fear, this still too recent trend is not coming back as it was. Instead, this fall the colors will be reversed. In the reverse ombré technique, the lighter shade slides gradually into the darker lengths. This trend is perfect for those who want to be at the forefront of new trends before the style reaches the rest of us mortals.
The styling for this long, gorgeous hair started with a blow-dry. Products that add volume and hold are the perfect match for blow-drying. For this style, we used Four Reasons Professional Smoothing Foam to add moisture and heat protection. We also applied some styling mousse to add extra volume under the curls. Try the Four Reasons Original Volume Mousse, for example. Next, we sprayed some Four Reasons Original Heat Styler before curling. To finish, we used the Four Reasons Professional Body Boost to create a rough structure and great hold in the curls. Finally, add some shine by applying Four Reasons Professional Dry Shine Spray or Four Reasons Original Smooth & Shine Serum.
Blocks & Sharp Edges
"I used to be afraid to show the real me. I did not have the courage to admit that to myself fully and to start living my best life – a life that doesn't have stuff missing and where I don't need to hide anything. I was missing the courage to be honest with myself. Today I find strength in the femininity that I used to find weak: I show my true self publicly and to everyone." -Janika
Oh, the golden eighties. Have the hair trends of the '80s surfaced stronger now than they did back then? This hair style is reminiscent of the strong angularity and the long neck hair of the period. The style also features the trendy and modern color blocking in the front. The boldest already tried out the color block trend early in the year. Now, block coloring is here to stay! Do you feel bold and edgy or are you looking for a more subtle look? Style it anyway you like and see the colors come to life!
This '80s style started off with the Four Reasons Professional Root Booster that lifts the roots and is activated by the heat of the hairdryer. Four Reasons Professional Salt Mist gives smooth, Scandinavian hair some roughness, making it easier to style. The style was finished with Four Reasons Professional Finishing Spray for a light hold. You can also try the Four Reasons Original Styling Hairspray for a more airy hold.
Smooth Layers
"When there is chaos around, what works best for me is exercise and focusing on doing the things I enjoy. That's how I take care of myself and my wellbeing, and find inner peace." -Simeon
This look is for those who consider effortlessness not only an attitude but a way of life. When you want to enjoy life and avoid stress, surround yourself with things that are stress-free. A soft surfer look can be transformed from carefree to coiffured by combining layered curls with a natural color mimicking the original shades of the hair. This look is not designed to shock but to bring out your authentic self. Don't hide it, flaunt it, baby!
When styling surfer hair, less is more; the hair was washed with the moisturizing Four Reasons Original Moisture Shampoo and conditioned with Four Reasons Original Moisture Mist. For styling, all you need is the Four Reasons Original Styling Mist.
The Feminine Shag
"I have always gotten comments about my height. I'm sure my height attracts attention, but I am so much more than my physical features. If someone is bothered by me being tall, I jump over them and continue on my way." -Venla
The signature style of rock stars is no longer the property of any given group – the shag easily lends itself also to more feminine looks. Contrasting elements are allowed after all; the rough but feminine shag is combined with a color made with two opposing shades. We also broke all the rules by placing the lighter shade in the roots. But, like we said: f***k the rules! You can be as upside down or inside out as you want – and look amazing at the same time.
This shockingly gorgeous color was created using the Four Reasons Color Mask Intense direct dye shades Pink and Fuchsia. The hair was washed using the Four Reasons Professional Silky Moisture Shampoo and conditioned with the moisturizing conditioner from the same product line. The hair was styled using the Four Reasons Professional Styling Primer and Smoothing Foam. The look was finished with the Four Reasons Professional Body Boost for support and volume and topped off with the Finishing Spray.
Soft, softer, bob
"My sensitivity used to feel like a weakness. Living with sensitivity means all emotions surface more strongly, so both good and bad feelings are felt multiplied. The strengths of being sensitive are empathy, heightened perception and deeper understanding of things. Sensitivity also requires a certain kind of strength to be able to face and understand things more deeply." -Aino
A powdery pink shade glowing in coral tones combined with a short, curly bob creates a soft, sensitive look. The style brings out the personality of its owner without being too shocking or loud. The bob can be styled by straightening the hair or emphasizing natural curls, making the look versatile and individual. You can never go wrong with pink – am I right?
We added moisture and shine to these pink curls by starting with the Four Reasons Original Smooth & Shine Serum. Four Reasons Original Volume Mousse was used to add hold and volume, and the look was finished with Four Reasons Original Freeze & Shine Hairspray for long-lasting hold.
Bangs & Blondes (have more fun)
"I always hated that I don't fit into the traditional mold of a man. My hips are too wide, my waist too narrow, I don't have wide enough shoulders and my jawline is not sharp enough, I can't grow a beard. Today I felt like wearing a dress, yesterday I wore suit pants. Today I want long hair, tomorrow close shaved. No one can keep hating themselves their whole life, why continue it any longer. I hated that I was mentally and physically an androgynous man. Today I love it and I love myself more than ever." -Emil
Fall in love (we certainly did) with this London-inspired, short and layered style with short bangs! This look is a sure uplift when you want to give your hair something new instead of the usual trusted cut. Time to let go of rules and old habits and be bold! You may be used to bangs that run over your eyebrows and are always in the way. Now, make them S-H-O-R-T and enjoy your freedom. The lightened feel can really show, and the brightness does not need to be muted. Let the lightness glow! An effective silver shampoo, such as the Four Reasons Professional No Yellow Shampoo, removes undesired yellowness and creates a deliciously bright look.
This look was styled using the Four Reasons Professional Smoothing Foam to make the hair soft and easy to style. When finishing a short style, all you need is some wax to hold the hair in place. Try the Four Reasons Professional Texture Wax or the Four Reasons Original Matte Paste.
Short & Spicy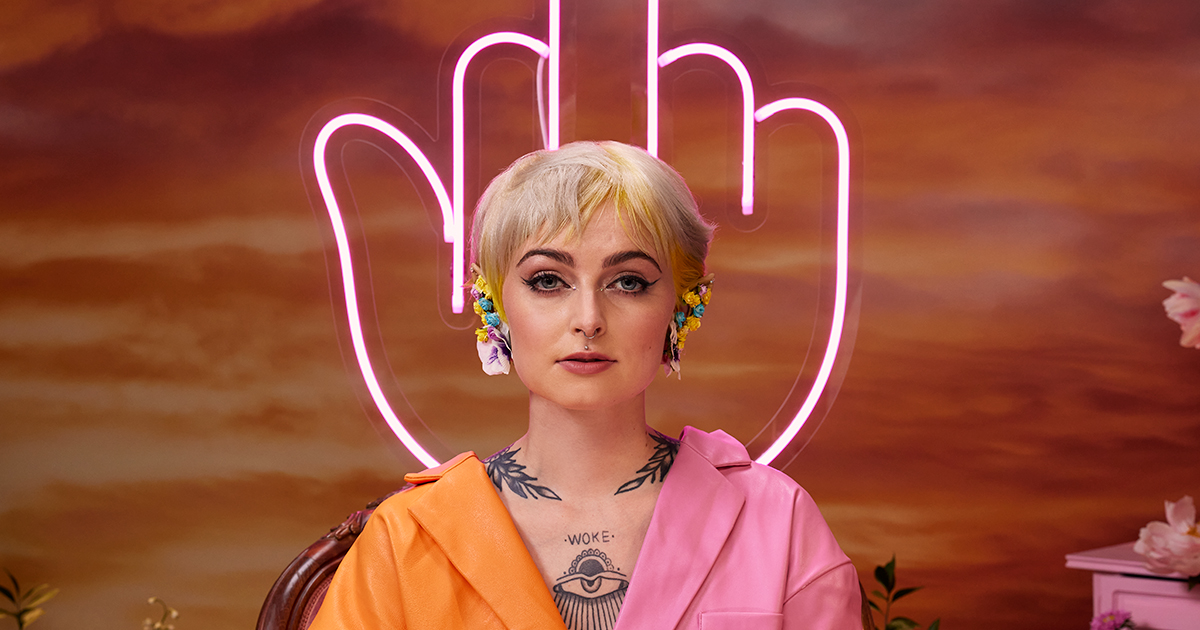 "Learning to like yourself is surely a lifetime learning process for us all. That is also what's great about it – even the coolest people who you admire from afar can have poor self esteem days. You should remember to try and explore, love and understand yourself like your greatest treasure and your best friend. After all, you are the one you'll be spending the rest of your life with. And you don't have to be crazy about yourself every day. Nobody is." -Maiju
A combination of legendary '80s supermodels and today's power women, that is what this style is made of. The versatile style and layered cut offer endless possibilities for styling and finding your favorite look. In this style, the frosty vanilla glows in spectacular shades as the bright yellow screams: "Papa don't preach!" Part your hair in a different place to make the bright color peek subtly under the light hair or show it off in all its vibrancy.
For this style, we used the Four Reasons Professional Styling Primer to give the hair a light hold and make it easier to style. The style was finished using the Four Reasons Professional Body Boost and the Four Reasons Professional Elastic Volume Spray.