Inspiration
How to fix dry and rough hair at home: 4 + 1 tips for healthier hair
10.12.2021, Meri
Dry hair, the biggest hair issue (or at least the most persistent) of our time. Most of us have suffered from dry hair at some point in our lives. You too, most likely, since you have ended up reading this text. You've come to the right place, and lucky for you, we can tell you that it's not too late for a miracle: dry hair, and the breakage and roughness it causes, are completely treatable. We came up with 4 tips to treat dry hair efficiently and a secret weapon that gives you shiny and moisturized hair in no time.
As you're reading this article, you are already on the right path towards shiny and healthy hair. It is not difficult to treat dry hair as long as you have the right tools and a handful of patience. This is not a problem you can fix overnight, but a few excellent tips and efficient products will go a long way. You can also find a secret weapon for moisturized and shiny hair at the end of the article. And no, it's not olive oil.
What causes dry and brittle hair?
Only you know the cause of your dry hair. However, here are a few possible explanations: weather, dry indoor air, recurrent hair treatments, wrong hair products, dry scalp, or heat damage caused by styling irons. Dry hair is usually caused by hair damage: the hair dries when its surface gets damaged and moisture escapes from the hair.
Dryness isn't specific for a certain hair type, so anyone can suffer from dry hair, and for some, the hair is even more prone to dryness. Yes, we are talking about you with those lovely curls of yours. You can recognize dry hair, for example, from the rough and frizzy texture, lack of shine, and breakage. The ends of dry hair can also appear fluffy and branched.
Get your hair in shape with these tips
Whatever the reason for your dry hair, you should get a hold of yourself, or of your hair in this case, and get to business. Because the hair does not moisturize itself, and you're unlikely to stop using hair straighteners and a hairdryer anytime soon, you have to find other tricks to prevent the hair from drying. When your hair is prone to dryness, you should take advantage of our four-tip list. These will actually work!
1. Moisturize the dry scalp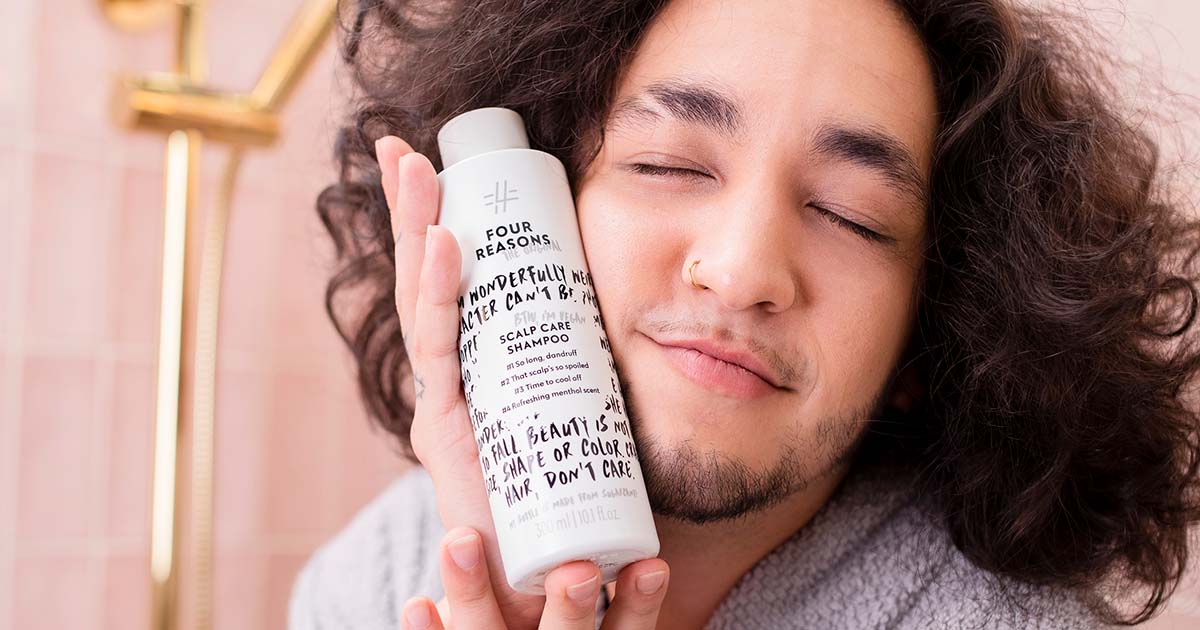 Scalp problems have a surprisingly significant effect on the overall well-being and appearance of the hair. If the scalp is not well, the whole hair suffers. The scalp naturally produces sebum, which also keeps the hair moisturized. If the production of sebum has slowed down for some reason, or the scalp is blocked due to the constant use of dry shampoo (guilty as charged), dry hair can result. In this case, you should go for products that moisturize and pamper the scalp.
Our recommendations for you with a dry scalp:
Four Reasons Original Scalp Scrub Shampoo
Four Reasons Original Scalp Revitalizing Tonic
Four Reasons Original Scalp Care Shampoo
2. Try a moisturizing shampoo and conditioner
Perhaps the most common, and also the most easily remediable, cause of dry and rough hair is the wrong kind of shampoo or conditioner. Regular supermarket shampoos and bars of soap will cleanse your hair, but sometimes we simply need more. When it comes to treating hair, more is more, and the quality content of a product is everything.
Moisturizing shampoo and conditioner are cornerstones for healthy hair. Dry hair needs daily treatments and moisturizing, which you can easily do in the shower while washing your hair. Moisturizing cleansing products are also the best option for you who can't always be bothered with your hair – just add water! There are plenty of choices for moisturizing hair cosmetics, and for every hair type: natural cosmetics, fragrance-free, professional-quality, and pampering products. There are plenty of options, so you won't miss out:
3. Take a break from using heat-based styling tools
Don't get us wrong, we love using curling irons and hair straighteners to style our hair, and we know you can only get the perfect blow out by using a hairdryer. We just want to remind you that continuous strain on your hair comes at a price – and the price is dry and brittle hair.
Take a break from using a heat iron, and try heatless curls, for example. Instead of curling your hair, try different braids, buns, and ponytails, and give your hair a little break.
If (and when) you do use heat-based styling tools, don't forget to use heat shield! Try Four Reasons Original Heat Styler or Four Reasons Professional Heat Shield, for example. A heat protection spray protects the hair from heat damage and thus also from dryness.
4. Have a haircut regularly
When the hair is dry and damaged enough, it can become brittle. In such cases, the best way to solve the problem is to admit that even the best moisturizing shampoos or conditioners are not going to work. So, grab a pair of scissors, and snip, snip! Or perhaps you should make an appointment with your go-to hairstylist to save yourself from a hair catastrophe. 😉
The easiest way to spot dry hair is by looking at the ends, and the only way to fix split ends is to cut them off. However, you can prevent the ends from drying and breaking by using caring and moisturizing products such as hair oil or serum. Our personal favorite is Four Reasons Original Smooth & Shine Serum that adds moisture and shine to the hair without leaving it oily. Add serum after each wash before brushing your hair, and your hair will thank you!
+1. Incorporate a moisturizing hair mask into your hair routine
When you feel that even a moisturizing shampoo, conditioner, and hair oil together do nothing for your dry hair, it's time to introduce the heavy guns: a moisturizing hair mask is a secret weapon to help you achieve shiny hair at home. Use the hair mask once a week, once a day, or as often as it is necessary for your hair!
Our favorite hair mask is Four Reasons Original Ultra Moisture Treatment, which contains provitamin b5 that structurally restores the softness and shine in the hair. The super-moisturizing intensive treatment strengthens the dry and damaged hair and is suitable for all hair types. If you prefer salon-quality hair cosmetics, we recommend the Four Reasons Professional Silky Moisture Treatment hair mask that has a powdery flower scent and contains shea butter that makes your hair soft while removing frizz.