Products
Good fragrances, bad fragrances? A fragrance-free hair salon experience as an alternative
13.3.2023, Four Reasons
Finns are exceptionally sensitive to fragrances: almost one in three people say they experience symptoms if exposed to excessive amounts of fragrances. However, few stop using fragrances altogether. According to a recent study*, mixing scented and fragrance-free products is typical: up to 92% of those who use fragrance-free products also buy scented products at least occasionally.
Up to 70% of those who prefer fragrance-free products wish unscented hair products would provide more of an experience!
"Even if I choose a fragrance-free product, it doesn't have to be dull and colorless. I want the product and its packaging to be impressive as much as someone using scented products!"
This was the opinion of people who participated in our consumer panel. They use fragrance-free products, and we wanted to know what they think about our No Nothing packaging renewal.
Now is the time for Four Reasons No Nothing to step out with colorful packaging, bold campaigns and a new, whimsical look that says no to boredom and conformity. The line includes effective products for four different hair types for washing, styling and finishing, packed in eco-friendly bio-based sugarcane plastic. The Four Reasons range also includes fragrance-free technical products for professional use. This is the dawn of a new age where hair salons can offer amazing fragrance-free experiences!
#1 The hair color of your dreams is fragrance-free
Functional, fragrance-free color products play a key role in providing a pleasant hair salon experience for customers sensitive to fragrances. Approximately 10% of the population is allergic to cosmetics and hair colors and fragrances are among the most common causes of allergies.
In addition to customers, hair stylists have started to value fragrance-free products more and more. In their work, hair stylists are exposed to several chemicals. This is among the main reasons that hair stylists change careers prematurely.
When we asked hair stylists to define "the color line of their dreams," it being fragrance-free was among the most important attributes. Almost a thousand Finnish hair stylists responded to the survey in 2018, and based on these responses, we created the Four Reasons Optima. This fragrance-free color line with stunning shades has been a dream-come-true: it's already used by almost 2,000 hair salons!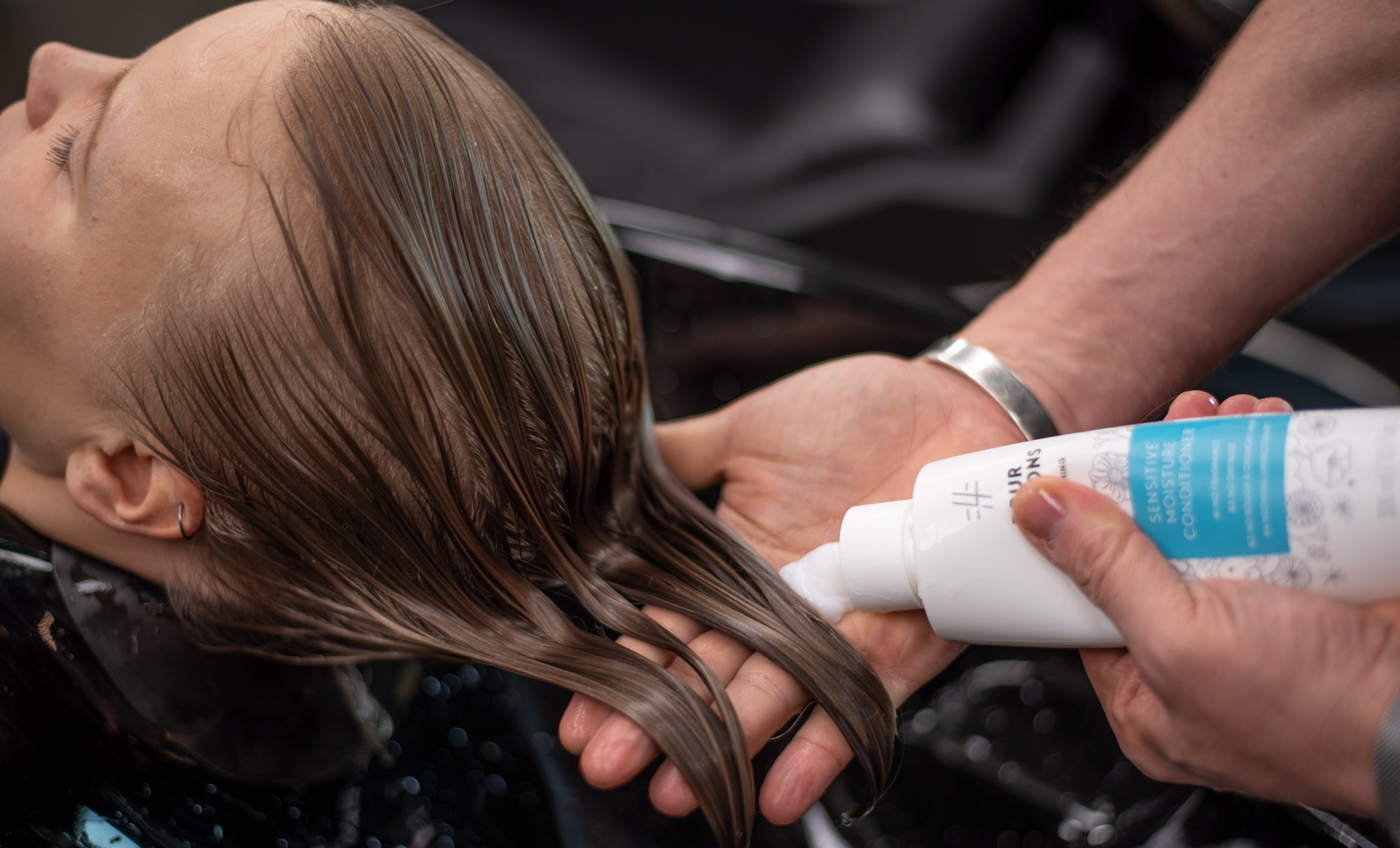 #2 Relax and pamper yourself at the shampoo station
You can create a relaxing experience at the shampoo station without the scents of washing products – invest in the customer's chair, surrounding sounds or interior design solutions, for example. Small things can make a huge difference in the customer experience; often a head massage and a still moment of being present are enough.
Fragrances have usually been a seamless part of the experience offered to the customer at the shampoo station, but the lack of scents doesn't have to compromise other aspects of the customer experience. The Four Reasons No Nothing cleanse and condition products never compromise quality: the foaming Moisture products get their power from avocado oil that moisturizes effectively, nourishes and gives your hair a stunning gloss. The Moisture product line makes your hair silky soft and keeps the static away. The nourishing composition guarantees the vitality of your hair. Products are also available in shampoo station sizes.
#3 Eye-catching hairdos without a chemical load
Not all hair salons can or should be 100% fragrance-free, and customers usually agree with this. Regardless, it may be a good idea to consider decreasing the chemical load of your hair salon, and fragrance-free styling products is one of the easiest ways of cutting your chemical consumption. A hair salon with many stylists can create quite a cloud of hair product fragrances in just a day. This happens particularly on special occasions when the hair salon is full of customers getting their hair done. In this case, it makes sense to switch some styling and finishing products to fragrance-free alternatives.
Reducing the use of fragrances is also taking your fellow humans into consideration. If you know that your customer works in a place with many other people, such as a school or a hospital, it's polite to bring up the working community's attitude towards fragrances and recommend fragrance-free alternatives, if necessary. Fragrance-free hair wax or styling mousse are also perfect choices for child customers!
The Four Reasons No Nothing styling and finishing products let those with delicate skin or sensitivity to fragrances express themselves and their attitude through their hair style and eye-catching hairdos. The latest addition to the styling product line is Sensitive Wax that gives flexible, rough structure and a strong hold for all hair styles. The line's dry shampoo, heat protection spray, styling shaper and mousse as well as two hairsprays of different volumes are already customer favorites!
#4 Home care
Fragrance sensitivity is common in Finland but not the only reason for selecting a fragrance-free hair product. According to our research*, the most significant reason (38% of respondents) is avoiding excessive use of chemicals for your own well-being and the environment. Many people select fragrance-free products because they have delicate skin and want to avoid dry and itching skin. This means that the majority of those choosing fragrance-free products are not allergic to fragrances but find strong scents unpleasant.
Fragrance-free products are fairly often bought at hair salons: 41% of the respondents said that they buy their fragrance-free products from their hair stylist. Even more people would make the purchase decision in the hair salon if salons had more fragrance-free products that were suitable for their hair type.
Finnish fragrance-free Four Reasons No Nothing is a response to consumers' wishes: a product line that includes no ingredients that commonly sensitize or irritate. The products are suitable for those with delicate skin as well as everyone looking to decrease the fragrance and chemical load of their body. All of the line's hair products have been granted the allergy symbol by the Allergy and Asthma Federation of Finland.
Four Reasons No Nothing says no to fragrances, empty promises, compromises and all that is unnecessary.
---
*The survey was carried out by Pentagon Insight in the spring of 2019, n=465 Finnish men and women
Sources: the Allergy and Asthma Federation of Finland, allergia.fi