Events
Inspiration
Cover photos are for everyone! Say goodbye to homogeneous magazine imagery and read 8 fabulous stories
29.11.2021, Mira
Let's fight against the standardized world of cover photos together! We joined Ina Mikkola in her Sweet Spot venue and arranged a workshop where cover photos are for everyone. Take a look at eight cover photos and read the stories behind the participants. Don't lose hope, and forget FOMO, as you will find a way to join the rebellion at the end of this article.
From month to month, the same faces circulate in the pictures of media and companies in the beauty sector. You can take our word for it, we know: for years, we were guilty of it too. But don't worry, each one of us can take a moment to look at what we're actually doing, learn new and evolve. The goal we have set for our company is to break the very narrow mold of beauty.
In order to achieve this goal, we need to work continuously for diversity as the beauty standards sit tight especially in the hair and beauty industry. Unique beauty has been a topic of conversation for some time now. So, why do ads, covers of women's magazines and businesses' social media only display the same "traditionally" beautiful people in a perfect cookie-cutter mold?
Wobbly but determined first steps
In spring 2021, we conducted a survey to investigate where our shared appearance pressure stems from. The answer was clear: two-thirds of women feel that the pressure on appearance comes from others. Most significant influencers are photos in social media and advertisements. There is plenty of room for improvement in this appearance-oriented industry, but we have to start from somewhere. We decided to start a journey towards breaking the mold of beauty with a combination of three steps:
1. We renewed all our visual materials. Imagine what hair product ads and the beauty industry imagery traditionally look like and turn them upside down. When looking for personalities for our visual materials, it's important for us to invite all kinds of people to the studio, shoot our material in situations where you would actually use the products instead of staging them in a perfectly lit studio, and say goodbye to retouching fabulous imperfections. Somewhere there's a world where everyone of us can find someone who looks like us in beauty product advertising – we're not there yet, but we are already on our way.
2. If you try to fix the world in one go, you'll most likely end up with a graveyard of broken dreams full of duct tape and quick fixes that is being held together by the Holy Ghost and will break apart at any given moment. This is why we want to start from the basics: we will organize a comprehensive training on inclusivity for all our employees in cooperation with deidei Oy. We promise to tell you more when the time comes!
3. We teamed up with the lovely (LOVELY) Ina Mikkola in Revolutionista Productions' Sweet Spot project and organized a cover photo workshop together, where we fought against the homogenous mold of beauty by creating unique cover photos for eight fabulous people. Read more about the day, take a look at all the cover photos and learn more about the stories behind the participants!
Cover photos are for everyone
Ina Mikkola, whom we love and adore, is a journalist, director, author, and opinion leader who, on the day of the photoshoot, was also named as the safe space priestess. Sweet Spot, which operated in Torikortteli in Helsinki in September, was a project of Ina's company Revolutionista Productions. A venue as sweet as cotton candy.
In the event on Saturday September 18, we teamed up against the homogenous mold of beauty and created unique cover photos of different people. The aim of the workshop was to encourage participants to celebrate their unique features and to turn their insecurities into strengths.
"When the same generic imagery is in circulation year after year, it narrows our conception of a person. I suggested that maybe the hair product company Four Reasons would be inspired to organize this type of workshop with me, and they were in straight away! The fact that they want to be involved in broadening the concept of beauty is something I value in their brand." – Ina Mikkola
Eight participants were chosen for the workshop. Photographer Saara Taussi took a gorgeous photo of each, and based on the participants' personal stories, journalist and graphic artist Nelli Kenttä and Ina created personalized headlines in the style of magazine covers. Makeup artists Noora Varrio and Aarni Mikkola created the makeup looks, and Jenni Sofia Saarenoja, Satu Happonen, and Emilia Wallin were in charge of hair.
Welcome to the alternate reality of cover photos where diversity and honesty take the lead!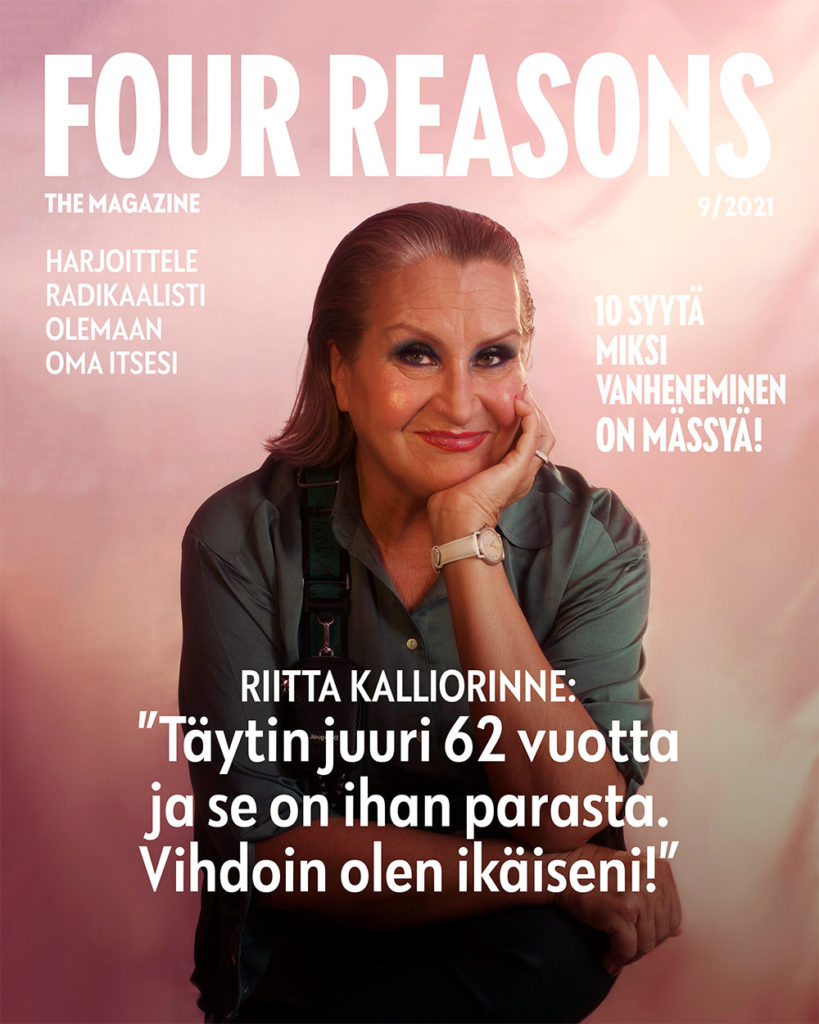 Riitta Kalliorinne
Ina Mikkola's superfan Riitta applied for the cover photo workshop to brand herself as the aging granny to stop women from hiding or being afraid of their age: "I am already 62 years old, and I thought I would like to represent us older women in this cover photo project. It's great to live in this time where we can play with the concept of cover photos, as they have previously been such a sensitive subject."
"The best thing that has ever happened to me is that I have had the chance to live this old. I would like to launch the hashtag #covergranny."
Thao Pham
Thao tells us that she has been unable to find role models that look like her in the media when it has been especially important to her – and curvy Asians are still not highlighted in media. People with Asian origins are scarce in the Finnish media in general, and when they are displayed, they tend to be slim, dainty, and with a supermodel body. Thao highlights the stress stemming from this deeply rooted beauty standard: "I am Asian and curvy. Curviness is not something you associate with an Asian appearance, and this makes me insecure."
"Media and magazine covers only highlight thin Asians, which fuels the stereotype that all Asians are slim. I want to be a part of changing this small step at a time."
Suvituuli Siikasaari
The firstborn child of Suvituuli Siikasaari was born in a rainforest by an emergency C-section. The reminders of the event were a bacterial infection from the shack hospital and the belly: "The belly is big and a source of great shame for me. I would like to see myself beautiful in lingerie, happy and free from the belly anxiety!"
The media-fueled fatphobia also causes pressure to fit in the standardized mold. For Suvituuli, it is important to show people what a beautiful grown-up, overweight woman, and a survivor of brutal violence looks like. Brutal violence, eating disorder, suicide attempts, and drug addiction have cast a shadow over her life: the mother of two tells us that she has lived and seen enough for ten lifetimes.
Suvituuli says she also wants to be a role model for others who share a difficult past: "I have dedicated my adulthood to learning to accept myself and my body, and with that also the bodies of others. I'm not done yet, and a lot of self-loathing remains. This workshop is an important tool."
"Now, I'm celebrating my own beauty and a life that feels so precious when you've been close to losing it. I know how bad it feels not to see
people like yourself on the runway or on magazine covers. I want to see overweight bodies, disabled bodies, amputated bodies, scarred bodies, and bodies of different shapes in the magazine covers. We are all worthy of love."
Anniina Rauhala
"I tend to act first and think later. This experience is one positive example of what can happen when you behave like that," says Anniina and laughs as we ask why she applied for the cover workshop. Anniina tells us that she comes with a traumatic history and a fragile self-concept: "I have only recently acknowledged that I also have a permission to ponder my gender identity, even at this age."
Like all of us, Anniina wants to be seen and accepted just the way she is: "During the coronavirus pandemic, I started working on the relationship with my body and my identity by taking pictures of myself. I have already moved from the picture where my head is covered in a garbage bag to pictures where my body is partly visible."
"As a mental health activist, I am always happy for an opportunity to share experiences about being seen through peers and representation perhaps to others too."
Pinja Eskola
When businesses and the media speak out for diversity, people without disabilities are often at the center of it. Pinja, who is studying to become a sexual counselor, also likes to remind us that when the media talks about disabilities, they often do so in a negative tone. This is why she wants to set an example that also the disabled can live a good and full life: "The media has long talked about disabilities through negativity: like we were sad sob stories. Fortunately, this imagery is slowly changing, but people's conceptions about disabilities are still often loaded in a bad way."
She also introduces a fault in the body positivity movement, which is that it focuses on abled bodies: "I am a body positivity activist, but I understand why many people with disabilities cannot relate to the message of body positivity. Disabled bodies do not function normally. The idea of body positivity should become even more accepting and merciful towards all types of bodies."
"In this workshop, I would like to see myself in the same light I have seen myself in the recent years: beautiful and radiant."
Piisu Tuominen
The conflict between Piisu's gender identity and gender expression causes insecurities in the appearance almost on a weekly basis. "I'm AFAB (assigned female at birth), and people have a wrong perception of my gender. It creates a lot of dysphoria."
For many, hair is a big part of one's own gender expression. Piisu also talks about the importance of hair as a source of self-expression. They consider it great that you can create different colors and shapes to your hair even at home.
"Longer hair is perceived so feminine that I was often identified as a woman when I had long hair. I shaved my hair short again a few weeks ago, and that helped with the dysphoria significantly!"
Krista Karppinen
Here's a person who is truly willing to give her all. Krista jumped onboard at a minute's notice: "I had to leave in a bit of a hurry as someone canceled and I got a call nine minutes before the workshop started asking me if I could join in. I originally applied for the workshop because more different people are needed in cover photos: different sizes, different appearances, and different personas too."
"Today I was able to overcome my own fears: I haven't much enjoyed being in front of the camera. Now that we took these photos, and I dared to do it, it has been super fun. And look at this face!"
Hodan Mohamed
When Hodan applied for the cover workshop, she aimed to bring out a different side of immigrants. "The media in Finland gives a very homogenous and usually negative image of immigrants. A Muslim woman is usually seen as a damsel in distress," she says and tells us that she wants to highlight entrepreneurship and success stories also from the perspective of minorities: "I encourage women to be themselves. They can achieve their dreams in both their professional and private lives."
According to Hodan, the workshop consisted of a warm atmosphere, lovely people, and interesting conversations about important issues. She'd like to remind us that work must be done continuously to promote these important issues.
"Diversity must be celebrated and highlighted also in the media!"
We agree wholeheartedly. Thank you to those who joined us in creating the cover workshop and the safe space!
Did you miss out on the cover workshop and the open Four Reasons cover shoot point at the Sweet Spot venue but would like to see yourself on the cover and join the rebellion against the homogenous world of cover photos?
Use our new filter on Instagram or Facebook and become a cover model anytime and anywhere!
You can find our magazine cover filter in the Effects tab on our Instagram account or from the Effects Gallery by searching the filter: Join the rebellion ✨
Remember to tag us, so we get to see your gorgeously unique magazine cover and share it on our account @fourreasons!