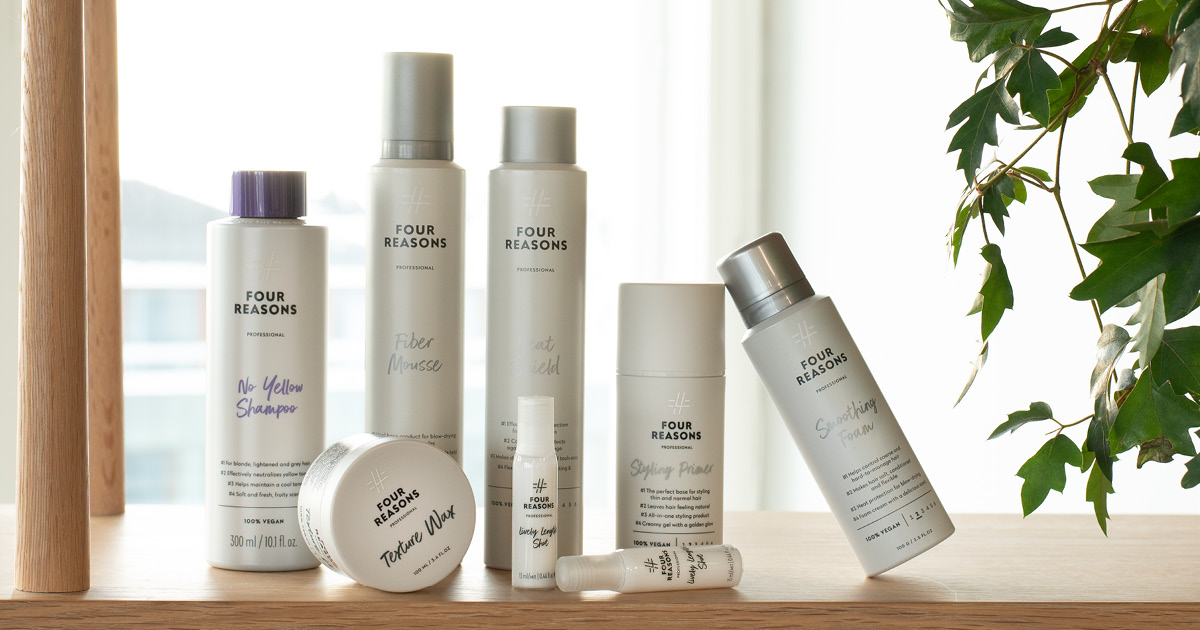 We created the Four Reasons Professional hair product line for you because you deserve something uniquely wonderful. Our products are designed to meet the high standards of professional hair stylists and made from high-quality, vegan ingredients with the well-being of the environment at heart. The Four Reasons Professional product family contains professional-quality cleanse, care and styling products for all hair types. Pure premium for you and your clients. Read below what are our educators' favorite Four Reasons Professional products and tips!

Four Reasons Professional Smoothing Foam ja Styling Primer
"Smoothing Foam is the best choice for wavy or curly hair, as it smooths frizz thanks to its light hold and keeps the hair soft until the next wash. Styling Primer has a lovely consistency. It evens hair under other styling products, a little like makeup primer does for skin. Top tip: try using these two products together. It's a fantastic combo. <3"
– Linda Lehto @hairbylindal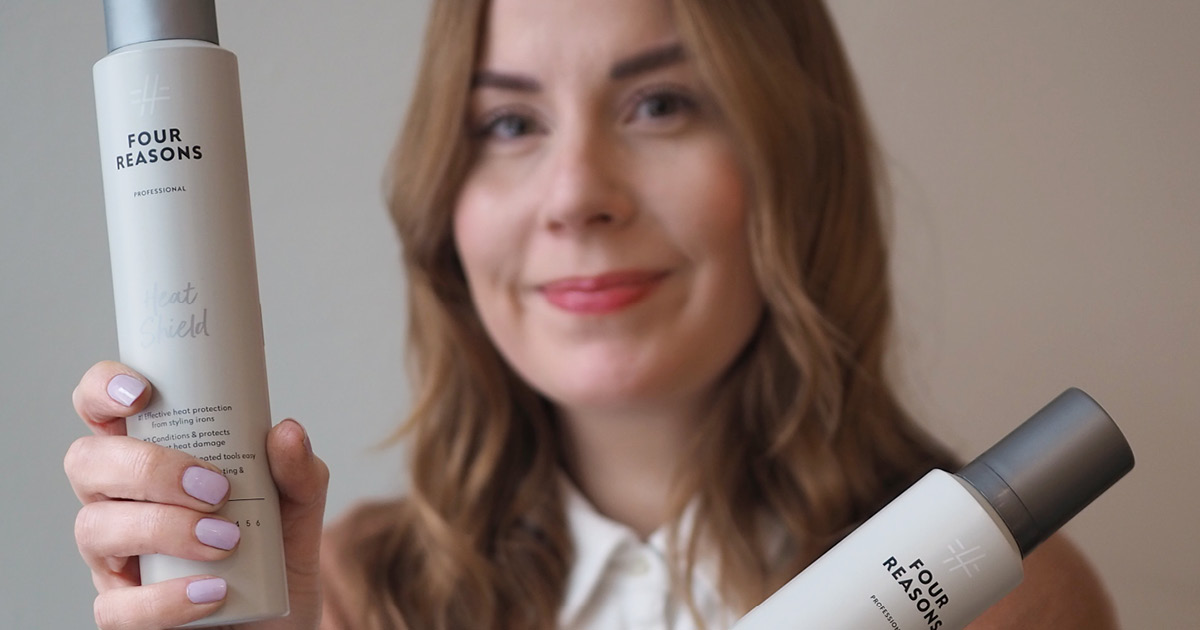 Four Reasons Professional Fiber Mousse ja Heat Shield
"Fiber Mousse works great with so many hair types, and I can make a very long-lasting and voluminous blow-dried base with it. I almost always use Fiber Mousse when I'm making a base for a hairstyle. I apply it to dry hair section by section, comb it through the hair and blow-dry using a round brush. By doing this, I can make even slippery and unprocessed hair much easier to style. Heat Shield is one of the best heat protectants around. I like that I can spray it on section by section without making the hair wet before I use a styling iron. The product also provides good hold and makes the curls or straightening done with a styling iron last longer."
– Sonja Määttänen @hairbysonja.m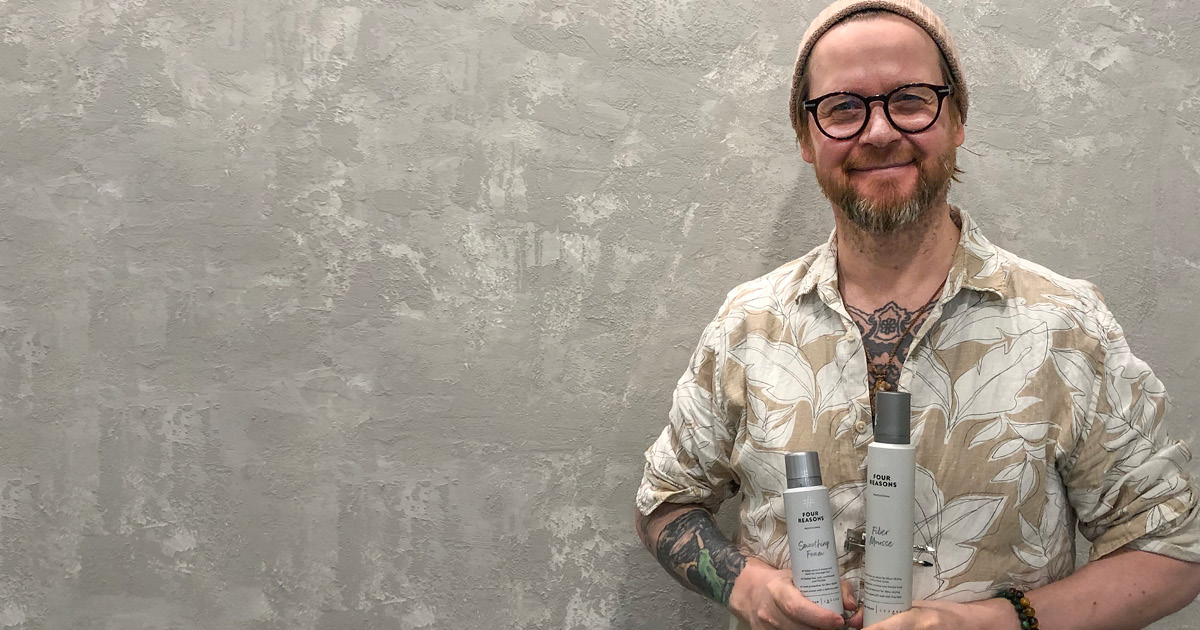 Four Reasons Professional Fiber Mousse ja Smoothing Foam
"I'm a blow-dry kind of guy through and through. I blow-dry almost all of my clients using a hairdryer and a round brush – regardless of hair length. For me, it's important that the end result is voluminous, full, soft, long-lasting, smooth, glossy and beautiful. With these two products, I can definitely achieve all that. Thanks to the fibers it contains, Fiber Mousse provides incredible structure that is voluminous and full. It holds the hair softly and flexibly and makes the hairstyle last longer while maintaining the natural movement of the hair. SUPER!
When blow-drying, I also use Smoothing Foam, which conditions and smooths the hair while making it glossy and providing light hold. Smoothing Foam is also great for adding the finishing touches after the hair has been dried. This is also SUPER. Blow-drying all kinds of hair is fun with these products because you already know the end result will look great."
– Piatu Puhakka @piatupop

Four Reasons Professional Lively Lengths Shot ja Dry Shine Spray
Lively Lengths Shot is part of the Four Reasons Professional Shot treatment ampoule line, that offers a perfect combination of moisturizing and smoothing. It leaves even long hair feeling wonderfully light and the hair becomes very easy to style. The product is also pleasant to use. Four Reasons Professional Dry Shine Spray is a fantastic product for bringing back the shine of hair that is unprocessed and in good condition without adding an artificial-looking coating to the hair. Tip: You don't have to be careful when using Dry Shine Spray – you can safely use a larger amount. It's a great finishing product for waves made with a styling iron, creating that 'Instagram hair' look."
– Harri Paananen @harri.paananen

Four Reasons Professional Body Boost ja Working Spray
"Body Boost – my go-to product for both everyday life and special occasions! For both myself and my clients! Body Boost provides wonderful volume and support. It's also my favourite for creating hairstyles, as it gives a nice amount of structure while leaving the hair easy to style! Body Boost is also one of our hair salon's best-selling products. It's easy to make a sale if you spray the product on the roots when adding the finishing touches to the hair and let the client feel what the product does to their hair!
I'm a huge fan of Working Spray's flexible and light hold. The hair is left wonderfully voluminous while retaining natural movement! However, if needed, you can make the hold stronger by spraying on more of the product. This product is my absolute and irreplaceable go-to product also for creating hairstyles. When working on a hairstyle, I can liberally apply Working Spray to sections to provide hold without needing to worry about the hair becoming stiff or too damp."
– Annika Allenius @annikaallenius

Four Reasons Professional No Yellow Shampoo ja No Yellow Conditioner
"The No Yellow Shampoo and No Yellow Conditioner products keep blonde clients' hair cool-toned from one hair salon visit to the next without layering pigment on the hair and making the color look muted. The tone remains bright, pure and cool from one use to the next."
– Elisa Cavén @hairbyelisa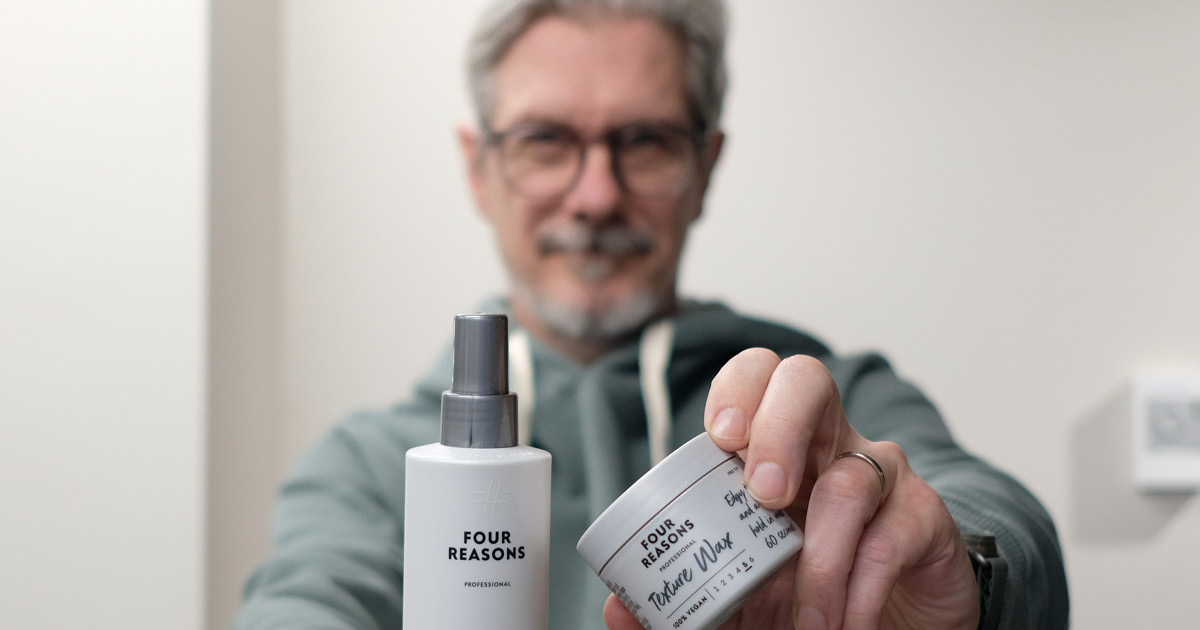 Four Reasons Professional Salt Mist ja Texture Wax
"I use Salt Mist for blow-drying every time after washing my hair. The product provides a nice amount of matte structure and hold. After blow-drying, I finish the style with the Texture Wax, which offers the hair excellent support and hold. These two products are my absolute favorites among the Four Reasons Professional line."
– Antero Lahtinen @antero.fourreasons
The Four Reasons Professional cleanse and care products are made in Finland using renewable energy and packaged in bio-based sugarcane plastic. Using bio-based plastic reduces the product's carbon footprint. The Four Reasons Professional product line is only available at hair salons and the online stores of hair salons. Learn more about the entire Four Reasons Professional line here.