Products
Hair stylists play an important role in treating scalp issues – what products to recommend for scalp issues and why?
18.3.2021, Four Reasons
We are all amazing, dandruff or not, but no one has the energy to sort out scalp issues day in, day out. Scalp issues are surprisingly common, and people want to find solutions that actually work. A hair stylist plays a key role in treating scalp issues: product recommendations and home care instructions from professionals are trusted.

Four Reasons Original Scalp is a selection of products designed to pamper the scalp, treat the senses and meet sustainability criteria. Each and every one of the five Original Scalp products is 100% vegan, produced in Finland with renewable energy and packed in recycled material.
The effect of the Original Scalp products is based on carefully selected ingredients. Organic rice grains and lactic acid exfoliate, pea protein moisturizes and aloe vera soothes. Tea tree oil shampoo and conditioner help with scalp flaking and itching.
Original Scalp is a compact product line that will surely help with many of your customer's issues!
How to identify the most common scalp issues and which products to recommend?
Dry scalp / Dry dandruff
What is it?
When the moisture balance of the body's skin is off, skin becomes dry and itchy. The skin in the scalp reacts the same but, in addition, the scalp is more prone to irritation and easily sensitized. When the scalp gets dry enough, it will start to flake and create dry dandruff.
Symptoms:
Dusty, dry dandruff and itching are the most common symptoms but typically skin elsewhere in the body is also prone to dryness. If there are other skin inflammation conditions at work, such as psoriasis, eczema and rosacea, it's very probable that also the customer's scalp will show symptoms, too. A dry scalp is typical during the winter season.
Tips:
Instruct the customer to wash their hair with a mild, soothing shampoo. Also recommend using a shampoo that exfoliates the scalp periodically to purify the scalp and to ensure the effectivity of moisturizing products. Choose a conditioner according to the condition of the hair, and favor products that moisturize the scalp as much as possible. Let the conditioner soak in and after that, massage it lightly into the roots to add extra moisture for the scalp skin. Finish off the care routine with hair tonic, which moisturizes and soothes a dry scalp.
Recommended Four Reasons products:

 Oily dandruff
What is it?
In an oily scalp, the yeast of the skin procreates more fervently and starts to create oily dandruff. Oily dandruff is different from dry dandruff: the oily flakes are larger and have a yellowish tint.
Symptoms:
The scalp feels clearly oily and sensitive, and oily dandruff comes off the scalp. Oily dandruff is typical for skin areas close to the face: hairline, behind the ears and eyebrows.
Tips:
If your customer is struggling with oily dandruff, it's extremely important to treat it with the right products because choosing the wrong products could result in the scalp issues flaring up. When selecting a shampoo and conditioner, the key is to pick out products that balance and freshen the scalp. Instruct the customer to include exfoliating their scalp into their care routine, too.
Recommended Four Reasons products:
Oily scalp
What is it?
An oily scalp is a common and fairly harmless issue. However, an oily scalp can be prone to scalp inflammations or oily dandruff, which is why preventative care is important.
Symptoms:
Hair looks and feels oily right after washing. The roots, in particular, soon seem flat, and the heavy, oily hair lacks movement and volume.
Tips:
Recommend products that balance and soothe the oily scalp. The customer can follow the care routines for oily dandruff but exfoliating the scalp is only recommended when necessary, if at all.
Recommended Four Reasons products:

Scalp buildup
What is it?
A scalp buildup means typically product residue, dirt or dead skin cells that has built up on the scalp. If left untreated, these can even block the pores of the scalp and cause irritation or inflammation.
Symptoms:
The scalp feels cloggy, and the roots of the hair are heavy and sticky. Hair feels dirty right after washing even though the scalp is not oily. Hair is hard to style.
Tips:
The most common factor causing scalp buildup is dry shampoo. Instruct your customer to wash their hair once or twice a week with a deep cleansing shampoo, which effectively and gently removes all residue from the hair and scalp. Regularly exfoliating the scalp is also necessary to remove the buildup. Finish off the scalp treatment with a refreshing hair tonic, which leaves a lovely fresh and clean sensation.
Recommended Four Reasons products: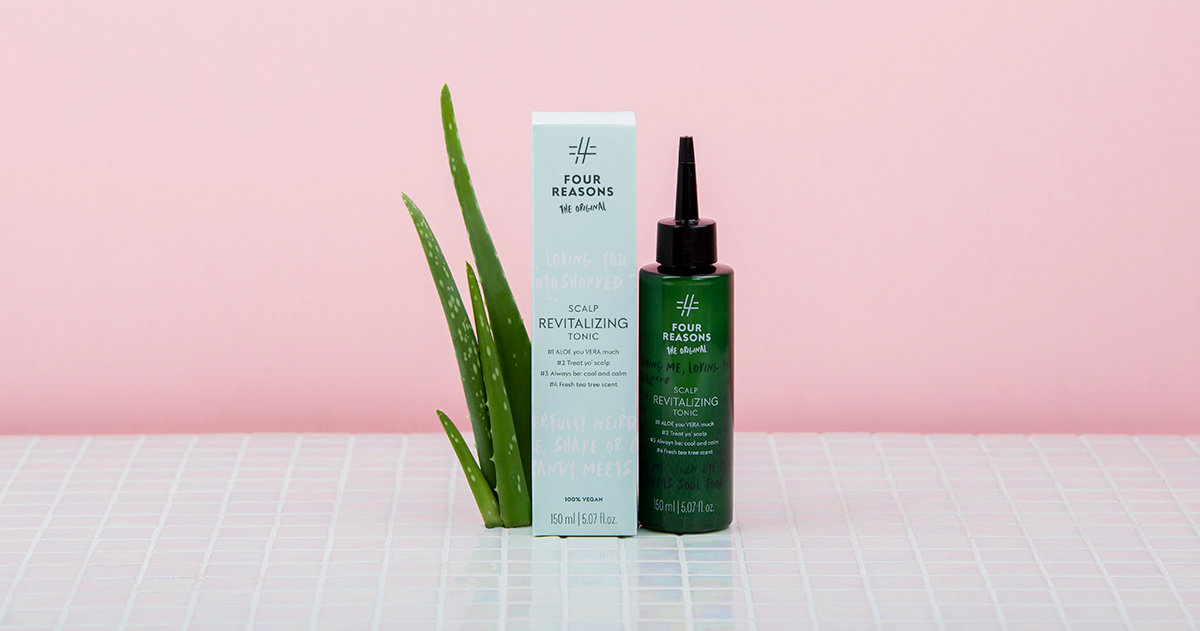 Pamper your scalp – prevent problems
We usually start treating our scalp only when we are experiencing symptoms. However, it's vital to look after the well-being of your healthy scalp even before any signs of symptoms. Exfoliating when necessary, moisturizing and refreshing your scalp with a bit of pampering are important for the well-being of a healthy scalp.
Ideal products for the preventative care of a healthy scalp:
With difficult and/or prolonged scalp issues, we recommend seeing a medical professional.